A Perfect Fit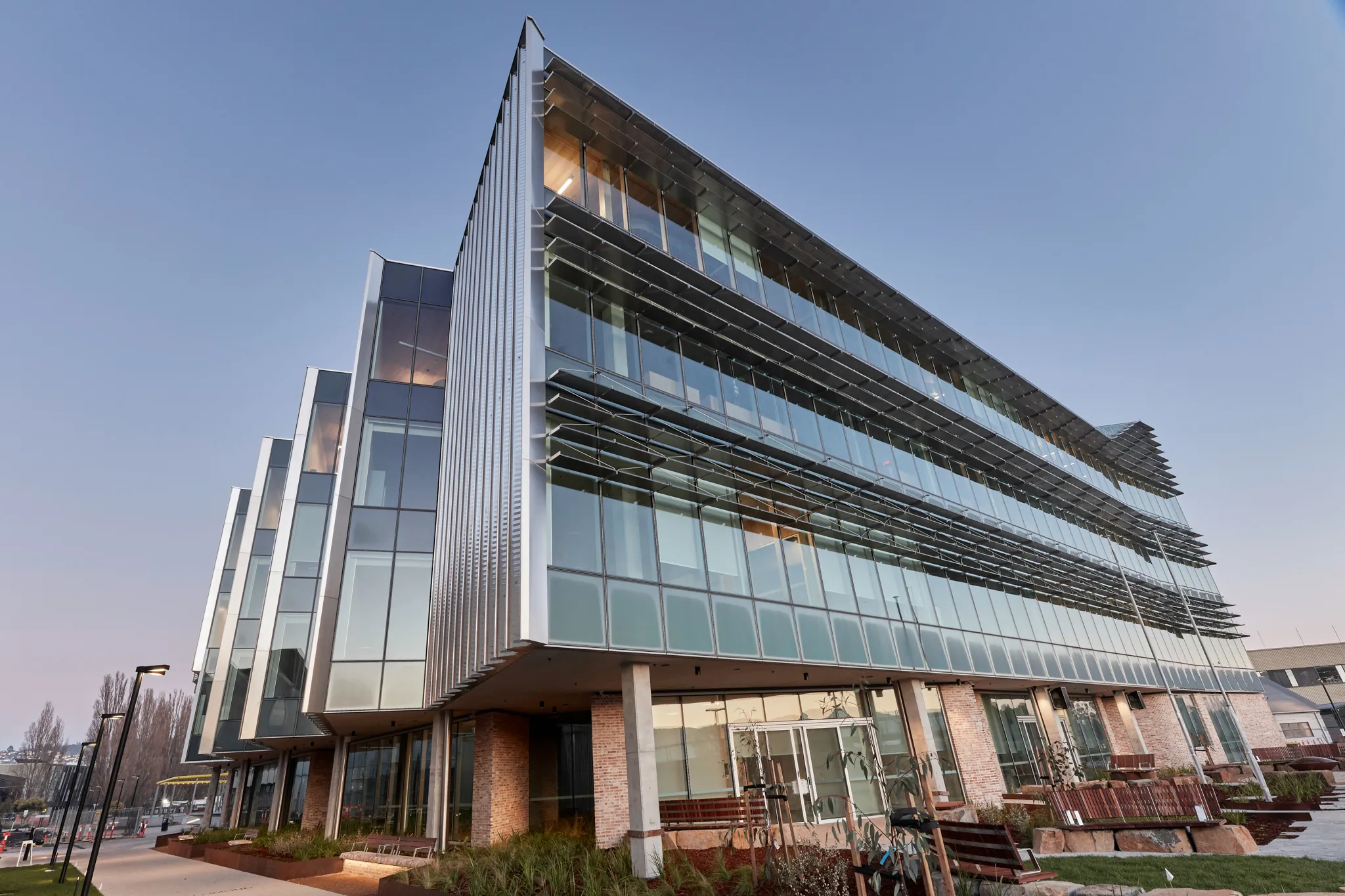 Nestled within the historic Railyard Precinct of Inveresk, the University of Tasmania's River's Edge fits snugly between existing buildings. An expansive glazed façade provides impressive views over the North Esk River out to Ben Lomond beyond, while thoughtfully placed windows within the other two facades frame a number of fantastic city and railyard views.
Central to the River's Edge project's narrative is its resolute commitment to sustainability. In a conscious departure from conventional construction practices, the client aspired to achieve a 30% reduction in carbon impact. This ambitious goal was achieved, in part, through extensive use of locally sourced timbers, a decision that not only championed eco-friendliness but also showcases the beauty of Australian Eucalypt species throughout the building's features.
The project incorporated a range of innovative materials and techniques. Standout features include the use of Cross Laminated Timber (CLT) for the stairs in place of concrete, Glue Laminated Timber (GLT) for the roof structure, and even the experimental use of solid Tasmanian Blue Gum over a hydronic heated concrete slab. These choices not only offer sustainable alternatives but also infuse the building with character and a connection to its local context.
"The River's Edge building is a prime example of how Tasmanian timber and recycled materials is being used in sustainable building initiatives, as the industry in Tasmania continues to make this transition," said Tasmanian Premier and Minister for State Development, Trade and the Antarctic, Jeremy Rockliff at the building's opening in July.
"The incorporation of world-leading hardwood cross laminated timber, developed and manufactured by Tasmanian company Cusp Building Solutions, is a testament to Tasmania's growing reputation as a global leader in design and manufacturing technology," Mr Rockliff said.
Around 1,500 students and staff from various UTAS faculties have now transitioned to the new building, which was officially opened on July 28.
At four storeys in height, the River's Edge building provides space for research and study, while also being home to the new Riawunna Centre for Aboriginal Education.
"Providing students with access to spaces equipped with the resources and technology to maximise learning creates job opportunities. This type of investment will also foster the development of new industries that will benefit generations to come," said Federal Assistant Minister for Infrastructure and Transport, and Senator for Tasmania, Carol Brown.
The River's Edge project faced its share of trials, with the COVID-19 pandemic introducing unprecedented challenges. State border closures were implemented that restricted entry of specialist tradespeople, social distancing measures were stringently implemented but were extremely challenging on such a small site with over 100 people on site. These challenges created scheduling issues that required a significant amount of management. Despite these disruptions, the project's delivery team exhibited remarkable resilience and adaptability.
"The site was previously used for rail and other heavy industrial uses, which deposited considerable contamination on the site over many years," said Fairbrother Project Manager, Dylan Graham. "This, combined with the inherent difficulties of the deep, soft mud, made for a complex inground works."
Every load of soil removed from the site required treatment, monitoring, and thorough testing prior to being transported to an approved facility for rehabilitation. This process took up considerable space, on an already highly constrained site.
The project team successfully repurposed steel gas pipeline tubes into a custom, driven pile design. The recycling of this material not only provided a successful pile design, but added a strong contribution to reducing the environmental impact of the project.
The building itself embraces innovation and sustainable practices. Throughout, most surfaces have been designed to have feature lining installed, made up of predominantly Tasmanian Timber, combined with fabric acoustic treatments and harder wearing decorative fibre cement sheet linings to the main thoroughfares.
The central atrium is a spectacular space, towering to 20 metres in height and is adorned with 8 monumental, suspended timber pods. With perimeter glazing to every level and the infill walls all lined with polished timber battens, every aspect of this project speaks to Fairbrother's commitment to quality and innovation.
Furthermore, the project's exterior is clad in raw aluminium Aramax, a high-impact material that nonetheless boasts a long lifespan and is 100% recyclable. Additionally, large sections of the northern facades are glazed with full-height curtain wall and intricate aluminium sunshades.
The River's Edge building is one of three Fairbrother projects at the University of Tasmania's Inveresk campus, with completion earlier in 2023 on the Stone Building, and works continuing on the Willis Street project across the river.
The level of executed detail and high-quality workmanship throughout the whole project is something that Fairbrother is extremely proud of.
"We're thankful to have had the opportunity to deliver another key educational facility for our long-term client, University of Tasmania," said Fairbrother General Manager – Northern Tasmania, Marcus Perkins.
As its doors open to students and staff, the building invites a new era of sustainable design and construction, where environmental consciousness is not just a goal, but a guiding principle that shapes the future of the industry.